Description
What is Pingdom?
Pingdom is an uptime monitoring service. When problems happen with a site that Pingdom monitors, it immediately alerts the owner so the problem can be taken care of.
What is AlertBot?
AlertBot's Website Monitoring provides businesses with around the clock testing of their website pages. This monitoring includes the testing of all possible webpage failure points as well as the verification of key performance metrics. This data gives businesses the information they need to ensure their websites are always running error-free and providing a quality user experience.
What is Pingometer?
When it comes to downtime, seconds count. We monitor your site around-the-clock to make sure it never skips a beat. We offer HTTP, HTTPS, RUM, DNS, ICMP, IMAP, POP3, SMTP, TCP, UDP, and Transaction monitors.
Cons
What are the cons of using Pingdom?
What are the cons of using AlertBot?
No Cons submitted yet for AlertBot
What are the cons of using Pingometer?
No Cons submitted yet for Pingometer
Pricing
How much does Pingdom cost?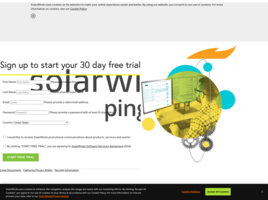 How much does AlertBot cost?

How much does Pingometer cost?

Companies
What companies use Pingdom?
781 companies on StackShare use Pingdom
What companies use AlertBot?
5 companies on StackShare use AlertBot
What companies use Pingometer?
1 companies on StackShare use Pingometer
Integrations
What tools integrate with Pingdom?
17 tools on StackShare integrate with Pingdom
No integrations listed yet
What tools integrate with Pingometer?
6 tools on StackShare integrate with Pingometer