Description
What is Dokku?
Docker powered mini-Heroku. The smallest PaaS implementation you've ever seen.
What is AppScale?
AppScale is a platform that allows users to deploy applications developed using the Google App Engine APIs over Amazon EC2, Rackspace, Google Compute Engine, Eucalyptus, Openstack, CloudStack, as well as KVM and VirtualBox.
What is Domino?
Use our cloud-hosted infrastructure to securely run your code on powerful hardware with a single command — without any changes to your code. If you have your own infrastructure, our Enterprise offering provides powerful, easy-to-use cluster management functionality behind your firewall.
Pros
Why do developers choose Dokku?
Why do developers choose AppScale?
Why do you like AppScale?
Why do developers choose Domino?
Pricing
How much does Dokku cost?
How much does AppScale cost? How much does Domino cost?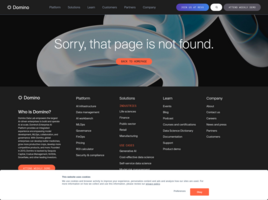 Companies
What companies use Dokku?
22 companies on StackShare use Dokku
What companies use AppScale?
0 companies on StackShare use AppScale
What companies use Domino?
2 companies on StackShare use Domino
Integrations
No integrations listed yet
What tools integrate with AppScale?
10 tools on StackShare integrate with AppScale
No integrations listed yet