GitHub Stats
No public GitHub repository stats available
No public GitHub repository stats available
Description
What is Buildkite?
CI and build automation tool that combines the power of your own build infrastructure with the convenience of a managed, centralized web UI. Used by Shopify, Basecamp, Digital Ocean, Venmo, Cochlear, Bugsnag and more.
What is DotCi?
DotCi is a Jenkins plugin created by Groupon that makes job management easy with built-in GitHub integration, push-button job creation, and YAML powered build configuration and customization. It comes prepackaged with Docker support as well, which means bootstrapping a new build environment from scratch can take as little as 15 minutes. DotCi has been a critical tool for Groupon internally for managing build and release pipelines for the wide variety of technologies in their SOA landscape.
What is GitHost CI?
We handle installing, updating, hosting, and backing up your own private and secure GitLab CE & CI instances in the cloud, starting at $7/month.
Pros
Why do you like Buildkite?
Why do developers choose DotCi?
Why do developers choose GitHost CI?
Why do you like GitHost CI?
Pricing
How much does Buildkite cost?

How much does DotCi cost?
How much does GitHost CI cost?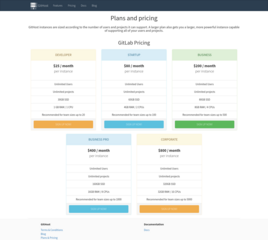 Companies
What companies use Buildkite?
27 companies on StackShare use Buildkite
What companies use DotCi?
1 companies on StackShare use DotCi
What companies use GitHost CI?
0 companies on StackShare use GitHost CI
Integrations
What tools integrate with Buildkite?
14 tools on StackShare integrate with Buildkite
What tools integrate with DotCi?
3 tools on StackShare integrate with DotCi
No integrations listed yet