Description
What is MySQL?
The MySQL software delivers a very fast, multi-threaded, multi-user, and robust SQL (Structured Query Language) database server. MySQL Server is intended for mission-critical, heavy-load production systems as well as for embedding into mass-deployed software.
What is Citus?
Citus is worry-free Postgres for SaaS. Made to scale out, Citus is an extension to Postgres that distributes queries across any number of servers. Citus is available as open source, as on-prem software, and as a fully-managed service.
What is FoundationDB?
FoundationDB is a NoSQL database with a shared nothing architecture. Designed around a "core" ordered key-value database, additional features and data models are supplied in layers. The key-value database, as well as all layers, supports full, cross-key and cross-server ACID transactions.
Cons
What are the cons of using MySQL?
What are the cons of using Citus?
No Cons submitted yet for Citus
What are the cons of using FoundationDB?
No Cons submitted yet for FoundationDB
Downsides of FoundationDB?
Pricing
How much does MySQL cost?
How much does Citus cost?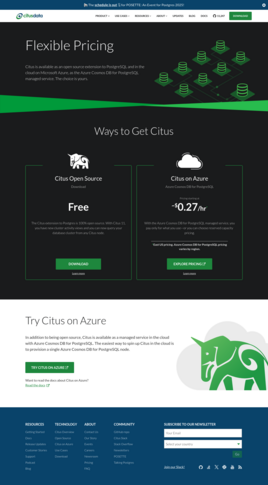 How much does FoundationDB cost?
Companies
What companies use MySQL?
2516 companies on StackShare use MySQL
What companies use Citus?
13 companies on StackShare use Citus
What companies use FoundationDB?
1 companies on StackShare use FoundationDB
Integrations
What tools integrate with MySQL?
72 tools on StackShare integrate with MySQL
What tools integrate with Citus?
14 tools on StackShare integrate with Citus
No integrations listed yet