Description
What is Hadoop?
The Apache Hadoop software library is a framework that allows for the distributed processing of large data sets across clusters of computers using simple programming models. It is designed to scale up from single servers to thousands of machines, each offering local computation and storage.
What is Citus?
Citus is worry-free Postgres for SaaS. Made to scale out, Citus is an extension to Postgres that distributes queries across any number of servers. Citus is available as open source, as on-prem software, and as a fully-managed service.
What is MarkLogic?
MarkLogic is the only Enterprise NoSQL database, bringing all the features you need into one unified system: a document-centric, schema-agnostic, structure-aware, clustered, transactional, secure, database server with built-in search and a full suite of application services.
Pros
Why do developers choose Hadoop?
Why do developers choose Citus?
Why do developers choose MarkLogic?
Why do you like MarkLogic?
Pricing
How much does Hadoop cost?
How much does Citus cost?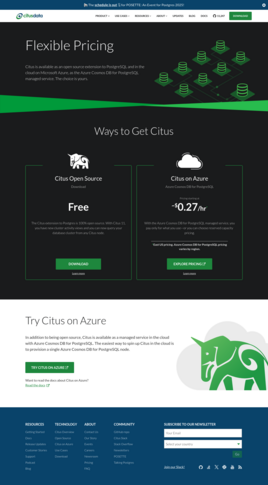 How much does MarkLogic cost?
Companies
What companies use Hadoop?
210 companies on StackShare use Hadoop
What companies use Citus?
13 companies on StackShare use Citus
What companies use MarkLogic?
1 companies on StackShare use MarkLogic
Integrations
What tools integrate with Hadoop?
14 tools on StackShare integrate with Hadoop
What tools integrate with Citus?
14 tools on StackShare integrate with Citus
No integrations listed yet