Description
What is MongoDB?
MongoDB stores data in JSON-like documents that can vary in structure, offering a dynamic, flexible schema. MongoDB was also designed for high availability and scalability, with built-in replication and auto-sharding.
What is RocksDB?
RocksDB is an embeddable persistent key-value store for fast storage. RocksDB can also be the foundation for a client-server database but our current focus is on embedded workloads. RocksDB builds on LevelDB to be scalable to run on servers with many CPU cores, to efficiently use fast storage, to support IO-bound, in-memory and write-once workloads, and to be flexible to allow for innovation.
What is Citus?
Citus is worry-free Postgres for SaaS. Made to scale out, Citus is an extension to Postgres that distributes queries across any number of servers. Citus is available as open source, as on-prem software, and as a fully-managed service.
Cons
What are the cons of using MongoDB?
What are the cons of using RocksDB?
No Cons submitted yet for RocksDB
What are the cons of using Citus?
No Cons submitted yet for Citus
Pricing
How much does MongoDB cost?

How much does RocksDB cost?
How much does Citus cost?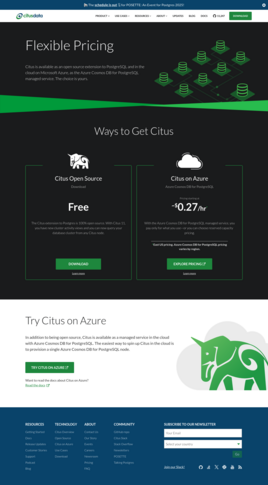 Companies
What companies use MongoDB?
1868 companies on StackShare use MongoDB
What companies use RocksDB?
4 companies on StackShare use RocksDB
What companies use Citus?
13 companies on StackShare use Citus
Integrations
What tools integrate with MongoDB?
41 tools on StackShare integrate with MongoDB
No integrations listed yet
What tools integrate with Citus?
14 tools on StackShare integrate with Citus