What is Google Hangouts?
Message contacts, start free video or voice calls, and hop on a conversation with one person or a group.
Google Hangouts is a tool in the Web and Video Conferencing category of a tech stack.
Who uses Google Hangouts?
22 companies reportedly use Google Hangouts in their tech stacks, including TransferGo, Voiceflow, and EasyCrédito.
54 developers on StackShare have stated that they use Google Hangouts.
Google Hangouts Integrations
Flowdock, Squadcast, Crowdcast, Google Hire, and erxes are some of the popular tools that integrate with Google Hangouts. Here's a list of all 9 tools that integrate with Google Hangouts.
Decisions about Google Hangouts
Here are some stack decisions, common use cases and reviews by companies and developers who chose Google Hangouts in their tech stack.
Needs advice
on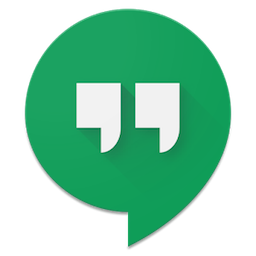 Google Hangouts
and
Google Hangouts Chat
I'm looking for advice on what App to use in conversation and phone calls to someone who lives out of the country. Should I use Google Hangouts, Google Hangouts Chat, or does anyone have any other suggestions? I would greatly appreciate any help you could possibly provide. Thank you
See more
Needs advice
on
Google Meet
and
Zoom
I own an Escape Room. Since right now everyone is practicing social distancing, I would like to run my Escape Room games virtually. I would like to allow approx 4 users to log in to play. They can chitchat a few minutes before their game to get to know each other. Then once the game begins, I will introduce myself and give them the plot to their escape game. I will have a wide-angle camera mounted to the wall to show the room, and as the game master, carry a tablet or webcam around as players talk to me and direct me to show them certain items in the room, move in for closeups in certain areas, try lock combinations, etc. I will be their hands while they solve the puzzles. I am not sure if Google Hangouts Google Meet or Zoom is better for this. I did try it yesterday using google hangout meet and it was good, but I think there may have been a wifi issue where it was choppy. Just trying to figure out the best option. Thank you! Catherine
See more
Google Hangouts Alternatives & Comparisons
What are some alternatives to Google Hangouts?
Skype's text, voice and video make it simple to share experiences with the people that matter to you, wherever they are.
It is a communication platform which includes messaging, video chat, and VOIP features.
Zoom unifies cloud video conferencing, simple online meetings, and cross platform group chat into one easy-to-use platform. Our solution offers the best video, audio, and screen-sharing experience across Zoom Rooms, Windows, Mac, iOS, Android, and H.323/SIP room systems.
Duo is a next-generation package manager that blends the best ideas from Component, Browserify and Go to make organizing and writing front-end code quick and painless.
It is the business-oriented version of Google's Hangouts platform and is suitable for businesses of all sizes. It allows users to dial in phone numbers to access meetings, thus enabling users with slow internet connection to call in.
See all alternatives
Google Hangouts's Followers
57 developers follow Google Hangouts to keep up with related blogs and decisions.